Packing system
Application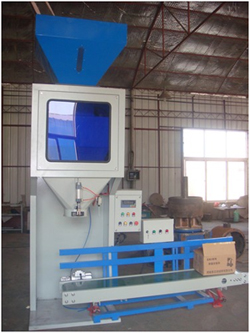 The automatic quantitative packing scale is mainly used in the fields of grain, forage, chemical industry and food industry, etc. Powdery or granular matters could be packed including as follows: rice, flour, fish flour, bean pulp, complete feed, premix, organic fertilizer, potash fertilizer, plastic pellet, etc. (samples and some feature parameters shall be provided by customers).
Performance features
Automatic quantitative packing scale as an electric integration process control machine owns the following features:
1) It features reasonable structure, elegant design, low working noise and energy consumption as well as maneuverability. Integrated with the automatic weighing-filling, the convoying, and the sewing sections, the machine can facilitate upgrading of productive efficiency, reduction of working strength and amelioration of working environment.
2) Embracing the technologies of high-speed weight data sampling, auto-compensation, automatic zero resetting and net weight calculation, it achieves a better measuring accuracy and cost performance. Also the machine with a long service life possesses stable and reliable performance.
3) It adopts digital filtering and analog filtering to effectively avoid mechanical vibration and material impact, the latter of which affect metering speed and accuracy.
4) Functions of compensational self-feeding and material flow tracking can ensure a reliable measuring accuracy.
5) It is convenient for onsite and centralized control with the technologies of multifunction display, failure monitoring, automatic diagnostic and multiple data communication interfaces (connectable to computer or printer).
6) It can be customerized according to the user's special requirements.

Including :
silo , weighting instrument , conveyor , sealing machine , air compressor
Sealing way : string sealing

Packing range : 20-50KG/bag
Power :5KW
Size : 1.2*1.2*3.6M
Weight :1200 KG
Big bag packing machine
Brief introduction:
LCS-1500K big bag packing machine with dosing by computer is specially for pellet materials. The capacity is from 1000-1500KG big bag.
Components List::
1、Storage bin(Made by customer)
2、Hopper
3、Weightier
4、Control box for weighting by computer
5、Gravity feeding structure
6、Clip structure
7、Hang bag structure
8、Platform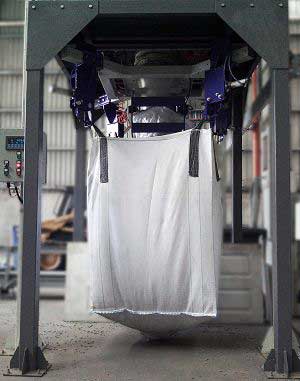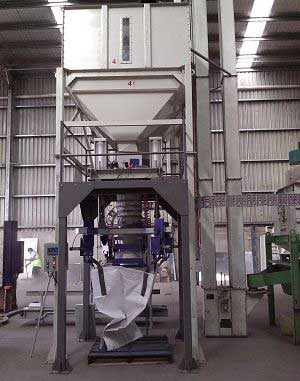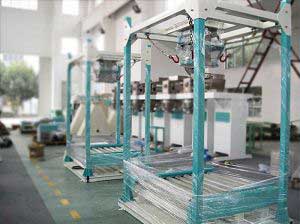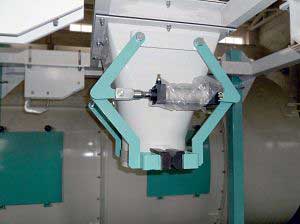 Function:
Automatically complete the packaging materials control functions, set the weight display, packaging timing chain process, fault alarm in one
With automatic storage and restore the function of debugging data;
Automatic storage on duty cumulative production, cumulative number of packages, gross domestic product, the total number of packages;
Gravity big and small dual-feed, improve accuracy and speed;
The high brightness fluorescent double, real-time display packaging weight, cumulative production, the number of packages;
Adjustable automatic the peeled cycle functions;
Standard RS232 and RS485 interface can be connected to computers and miniature printers;
Main parameter:
| | |
| --- | --- |
| Model | LCS-1500K |
| Weight range | 1000-1500kg |
| Precision of weighting | 0.2 Grade |
| Tolerance | ±0.2% |
| Capacity | 5~10 Bag/h |
| Power Supply | AC220/50HZ |
| Air Consumption | 0.3M3/h |
| Power | 0.5KW |
| Working temperature | -100C~+400C |
| Air pressure | 0.4~0.6Mpa |
Electrical Elements:
| | |
| --- | --- |
| Electric element. | Brand |
| Meter of weighting | TOLEDO |
| Sensor | TOLEDO |
| Air cylinder | CKD |
| Low voltage apparatus | Schneider |
All of equipment made by Q235 steel, and surface treatment by plastic spraying
Truck weighing machine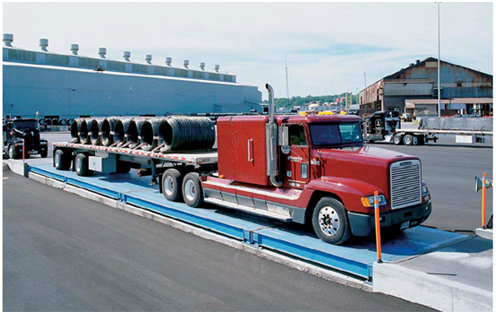 40 Tons truck weighing machine
Item
Specification
Qty
1
Model:SCS-40
Max. weighting : 40Tons
Board size:3M×10M
1 set
2
Electronic weighing platform

Fully steel structure
For plates,small plate size:1.5*5 m
Thickness of the steel platform: 10 mm
Height of each weighing body: about 300mm
Electronic sensor: 6 sets
Whole machine weight: about 4 tons

1set
3
Display panel control(with micro printer)Language: English
Panel control adjustment: parameter setting
Gross weight and pre-adjusted truck weight
Digital filter
Current time display
Record keep/check/delete/Protection of power interruption
Storage of 255 car number and their weight,100 goods number,512 weighing records.
6 sets
4
Signal and power cabin (JXH-6)
1set
5
4 core signal wire with screening
1 set
6
3 inch display
1 set