Small mobile pelletizing plant
Biomass small mobile pellet plant introduction
Our new produced biomass small mobile pellet plant, also called small integrated mobile pellet plant, is an integrated system equipped with the most important pellet machines and other supporting equipments. The biggest difference from the traditional pellet mill is this small mobile pellet plant is an all-in-one unit, integrate the functions of crushing, pelletizing, cooling, transporting, etc. into one complete pellet plant.
This small mobile pellet plant can process various raw materials into pellets, from the very beginning procedure crushing big size raw materials into the final pellets, with such small pellet plant can finish all, which improves working efficiency greatly and lowers wood pellets production costs. It's worth to own one.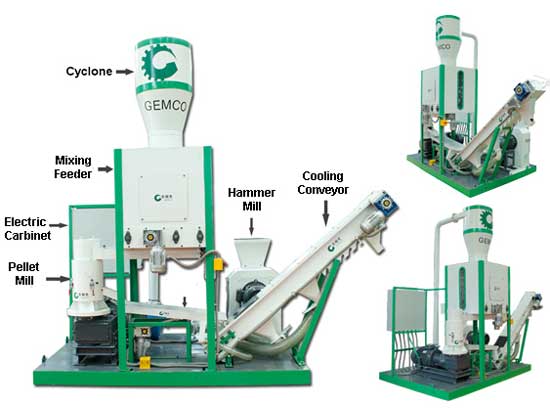 Main components of small mobile pellet plant
Now that the biomass small mobile pellet plant is an all-in-one unit. All the necessary processing machines for making pellets are installed in one same base. Primarily contains hammer mill, cyclone separator, bin, screw conveyor, pellet mill, vibrating screen, scraper conveyor, electric cabinet, and foundation frame. Only one operator can operate the complete pellet plant by adjusting the buttons simply, which extremely lower the cost of labor. What's more, we have obtained the patented technology, and it has a flexible applicability and all our customers are satisfied with it.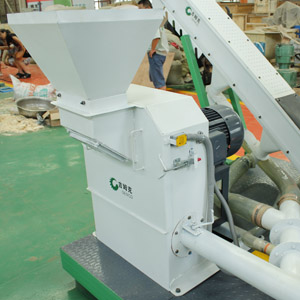 Hammer mill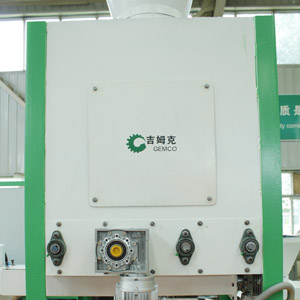 Storage bin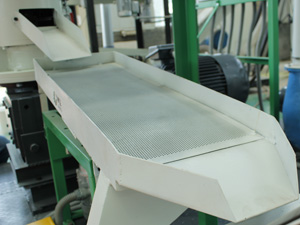 Vibrating sieve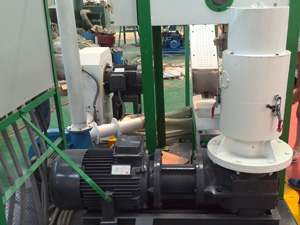 Pellet mill
Advantages of small mobile pellet plant
This small mobile pelletizing plant has a sophisticated design. With the help of pneumatic conveying system, just the minimum power can resized raw materials transportation, to the pelletizing process, recycle after screening, pellet cooling at scraper conveyor and dust control, without any material wasted.
GEMCO small mobile pellet plant has a quite small dimension(1960*3500*3500) thanks to the compact structure. So don't worry about the space. You can start your pelletizing at once!
Among all the necessary equipments, the electric cabinet is from Germany originated Schneider brand, which can guarantee your safety and the quality of electrics.
The application range is quite wide. Any kind of wastes can be processed as raw materials. Such as tobacco residue, leaf mustard stalk, bamboo, jute residue, tea residue, wheat-straw, palm shell, bean shell, coconut shell, dregs of decoction, castor shell, straw, sawdust, coffee grounds, rice husk, sunflower shell, cotton stalk, etc.
This biomass small mobile pellet plant is convenient to move to anywhere because we can equip wheels under the base and the delicate design.
The final pellets are used in many fields, such as heating and electricity industries as biofuels. What's more, the small mobile pellet plant with multifunction can also produce feedstuff pellets to used as the foods of cow, rabbits, sheep and other poultry.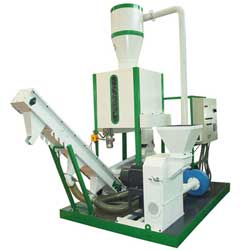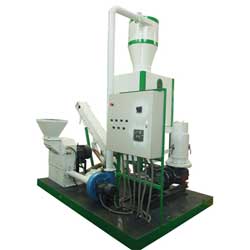 Specifications of Small Multifunctional Mobile Pellet Plant
| Model | Capacity(kg/h) | Pellet Diameter(mm) | Power(kw) | Size(mm) |
| --- | --- | --- | --- | --- |
| MPL300 | 250-350 | 6-12 | 41.25 | 3500*1960*3500 |
| MPL400 | 350-450 | 6-12 | 49.25 | 3500*1960*3500 |