EFB pellet machine
Empty Fruit Bunch (EFB) Pellet Machine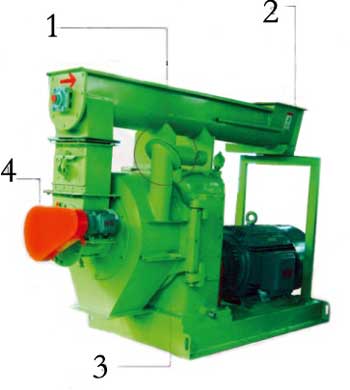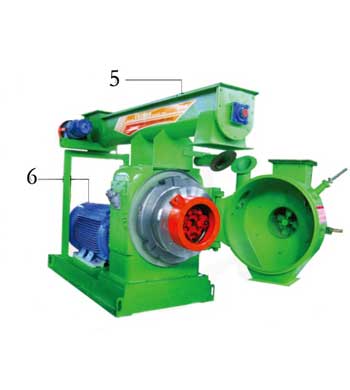 Features (please find the listed numbers in the pictures):
1. Adopting aerodynamics technology & The current round principle, reduce the temperature in pelletizing chamber and keep around 90°C, as a result the machine can work well continuously.
2. Timing feeder can control the feeding speed to lower the block ratio.
3. The body is more durable because we use ductile iron .
4. Capacity increased after adding another force feeder made from stainless steel to increase the feeding spread area.
5. Improved U type screw conveyor
Adjustable feeding speeds allow continous feeding without blockage
6. Gear driven through high precision gears.
7. The key working part become stronger after modifying
the material, heating processing technology etc..
These main parts are forging pieces. Now, the processing of our ring die can reach to 800-1000MT. Ring die is assembled by quick-discharge clip.
Other features:
1. Using imported bearing (NSK) & seals to get better transmission performance, stable operating, and less noise.
2. Installing advanced compensation serpentine-spring coupling which is safer, has a new structure, and lower failure rate during operation.
3. We got one Patent on ring die and 4 utility model patents on pellet mills
4. High efficiency, lower power consumption, stable operation and production.
Technical parameters
No.
Item
Parameter
1
GEMCO420M
GEMCO508
2
Capacity(T/H)
1-1.5
1.5-2
3
Main motor(KW)
90
132
4
Dia of pellet(MM)
φ4-φ12
φ4-φ12
5
Force feeding motor(KW)
1.5
1.5
6
Conditioner(KW)
3
3
7
Solidify rate
≥95%
≥95%
8
Noise(dB[A])
≤88
≤90
9
Size(L*W*H)
3300*1200*3943
3450*1470*4445
10
Weight(MT)
About 3.5MT
About 4.5MT
*Do not need to add binder
PS: The capacity of the EFB pellet machine with capacity 2ton per hour, I need make a clarify, IN THE STARTING OF PRODUCTION,CAPACITY CAN REACH AT LEAST 1.5TON PER HOUR; AFTER A PERIOD OF WORKING AND IN THE CASE OF THE RAW MATERIAL CONDITION MEET THE REQUIREMENT ON SIZE AND MOISTURE,EVERAGE PRODUCTION CAPACITY IS 2TON PER HOUR)
All of our EFB pellet machines can also process the
wood pellet
.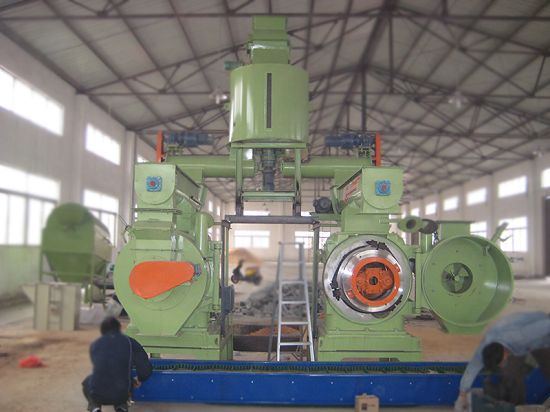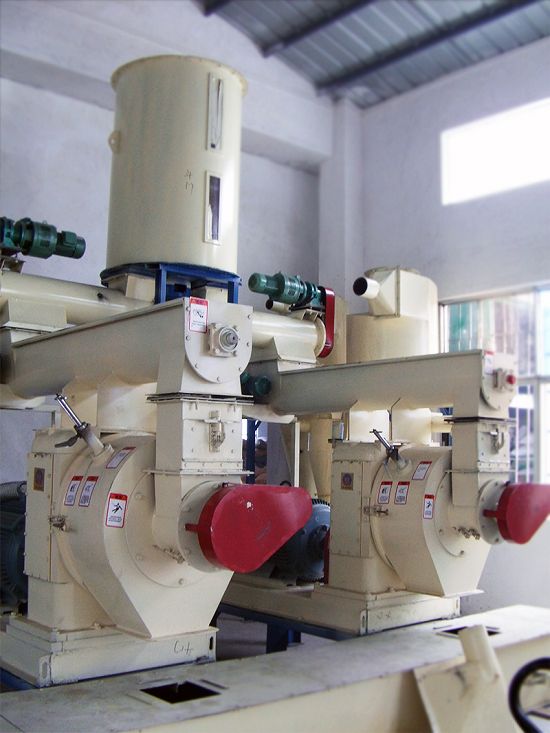 About EFB Pellet
EFB Pellet is the product manufacture from shredded EFB fibre. The deficiency of shredded EFB such as bulky in volume, high moisture and low net calorific value is improved after being manufacture become EFB pellet. EFB pellet also be classified as a pellet energy source such as saw dust pellet.
After gone through the pelletization process, shredded EFB fibre become EFB pellet which become a reliable biofuel resource. Below is the basic specification for EFB pellet.
Converting shredded EFB fiber becoming EFB pellet is a major contribution in renewable energy.
Main Application for EFB Pellet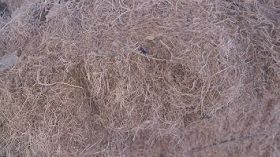 • Power Plant
• Boiler
• House Hold BBQ Rack
• Centralize Steam boiler
Specification for EFB Pellet
• Moisture < 12%
• Ash Content = 5%
• Volatile Material = 75%
• Carbon Content = 13%
• Heat Energy = 4000 kcal/kg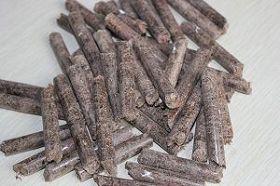 Dimension of EFB Pellet
• Diameter : 6, 8 & 10mm
• Length : < 30mm
Packaging for EFB Pellet
• Jumbo bag: 700-800kg/bag
• MOQ : 30MT
Advantage for EFB Pellet
EFB pellet with Low Moisture in Nature
High Heating Energy and Efficiency
EFB pellet Easy Handling and Storage
Pellet Suitable for most boiler grating system
Easy Control and Broad application
EFB pellet Generate Low to No smoke during the Combustion