How to select wood pellet machine?
What is wood pellet machine?
As most people know it, wood pellet machine is used to make wood pellets from raw materials, such as agricultural and forestry wastes, like straw, grass, sawdust, rice husk, corn stalk, and so on. Through a series of process, just like crushing the raw materials with hammer mill, pelletizing, cooling etc. make raw materials become high density pellets to be used mainly as biofuel.
The reason why wood pellets are popular is that now the pollution is rather serious, people begin to find new resources to instead of coal, natural gas etc. which are harmful to the environment. Finally, they find wood pellets are quite suitable to burn, due to the high combustion ratio and no harmful to the environment. So with the increasing demand of wood pellets, wood pellet machine has its broad market prospect. This is because wood pellet machine can make wastes into pellets, finally into fortune. So to select a suitable wood pellet machine is the first step for you to begin your treasure dreams.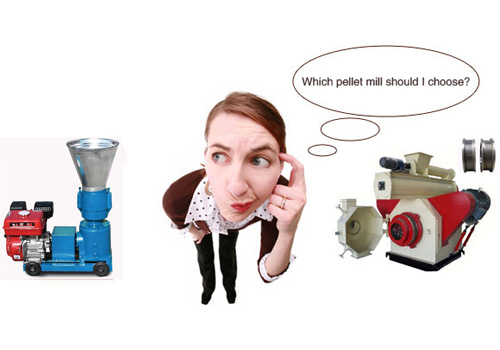 What features do high quality wood pellet machines have?
First, high quality wood pellet machine must be applied to various raw materials, sometimes, customers have different kinds of raw materials, it's difficult for them to purchase so many pellet machines to process different raw materials, that's a waste of money and manpower.
The main parts roller and die must be made from high alloy steel, which makes these parts more wear-resisting and durable to use.
Sometimes, customers want to feed dry raw materials into the pellet machine and finally can get dry pellets, we call this dry in and dry out. So high quality pellet machine should have this feature that guarantees we don't need to add any binders.
If the pellet machine is electric type, it must conform to the CE standard for the electric motor. Generally speaking, CE standard requires there must be an emergency button on electric control cabinet, in order that operators can shut it down when there is something wrong.
How to choose suitable wood pellet machine?
Pay attention to the warranty period. This may be explained in the after-sale service, generally it should be at least 1 year.
Be clear of your production capacity, then choose wood pellet machine with proper capacity. And consider your raw materials. For example, GEMCO pellet machine, you needn't consider the capacity, we have pellet machine with capacity ranges from 50kg/h to 1200kg/h, which can meet your different requirements.
The most prominent way to check the pellet machine is to take some of your raw materials to test the machine. Through this way, you can inspect the practical pelletizing effects. If it is very far, you can watch the video of testing process.
Don't just pursue the low price. We know every good worth what we pay, you should compare the price of the same pellet machine. For a short time, low price can be welcomed by customers, but only high quality can maintain long time, and finally it is cheap. You can benefit a lot from a wise investment.
In a word, whatever pellet machine you want, quality is the basic. With high quality, the pellet machine can reward you high benefits. So from now on, begin your business at once, you will be surprised.