Why choose integrate mobile pellet plant?
As we all know, traditional pellet machine normally contains flat die pellet machine and ring die pellet machine, we have already made comparison between flat die pellet machine and ring die pellet machine.
Have you heard of integrated mobile pellet plant? What comes to your mind when it comes to integrate mobile pellet plant? This may call to your mind: a ring die pellet machine with all auxiliary equipment like hammer mill, cooler and so on, of course, a big factory. The truth is an integrated mobile pellet plant is an all in one biomass pellet plant with other supporting equipment. This is where the integrate different from traditional pellet machine. The machine contains hammer mill, cyclone separator, bin, screw conveyor, pellet mill, vibrating screen, scraper conveyor, electric cabinet, and foundation frame, and they provide the function of crushing, pelletizing, cooling, transporting, etc.
Difference between integrate mobile pellet plant and traditional pellet plant
There are so many functions of the integrate pellet machine, what is the advantage compared to the traditional pellet machine?
The integrate mobile pellet plant is applicable to many raw materials, including logs, saw dust, wood shavings, crop straw, mixed feed, etc.
Small footprint relative to ring die pellet machine. More functions relative to flat die pellet machine. Fully function and easy moment, the integrated assembles the benefits from flat die pellet machine and ring die pellet machine.
Easy operating, the integrate pellet machine only needs one operator. Buttons control the operation of the mobile pellet machine. The operator only need to push the buttons to control and adjust the machine. Reduce the manpower expenditure compare to ring die pellet machine.
The performance of integrate mobile pellet machine is reliable. The functions of integrate mobile pellet machine contains crushing, separating, mixing, pelletizing and so on.
Electrical parts are guaranteed by Schneider from Germany, the machine is reliable. The entire body is made of solid and durable material, ensure the life of integrate mobile pellet machine.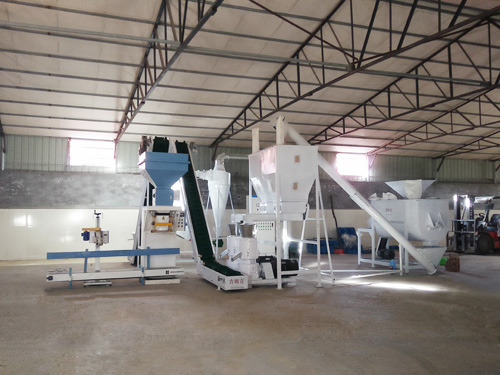 Process of pellet producing
1. Raw material collection. Raw materials are easy to find, such as crop straw, peanut shell, tree bark, sawdust and so on. Raw materials must be prepared enough at least one week. At the same time, the storage of raw material should prevent from water and fire.
2. Raw material grinding. The size of raw material has a certain demand, except for the sawdust, other material must crushed into smaller size.
3. Raw material drying. We have repeatedly stressed the importance of moisture content of raw material. The apposite moisture content is no more than 18%.
4. Raw material transportation. Materials are usually delivered to the hopper by the conveyor.
5. Raw material pelletizing. Pelletizing is the main process of pellet producing, we have advanced flat die pellet machine and integrate pellet machine for your choice.
6. Pellet cooling. The new made pellets temperature up to eighty or ninety degrees, pellets want to lower the temperature to the room temperature through the cooling system.
7. Pellet packaging. After cooling, pellets are delivered to package machine for metering and packaging.
Our integrate mobile pellet machine is a multifunctional small mobile pelletizing system. This new type of mobile pelletizing equipment is a comprehensive expression of advanced technology from home and abroad. It's well designed and multifunctional makes the machine more efficiency.