Issues about GEMCO feed pellet machine
What is feed pellet machines?
Feed pellet machines, is the equipment used to process raw materials such as corn, bean pulp, grass, straw, rice husk and so on into pellets to feed animals. After crushing and pelletizing, raw materials are processed into high density and nutrient-rich pellets which are suitable for feeding animals. So feed pellet machines are widely used in the aquaculture with large, medium and small scale, grain feed processing plant, livestock farm, poultry farm, individual farmers and different models of feed processing plant.
According to the working principle of pellet machines, feed pellet machine can be divided into ring die feed pellet machine and flat die feed pellet machine. If according to the application of pellet machine, there are small homemade feed pellet machine, poultry feed pellet machine, fish feed pellet machine, rabbit feed pellet machine, pig feed pellet machine and straw feed pellet machine etc. Different pellet machines have different working principles and different appearance.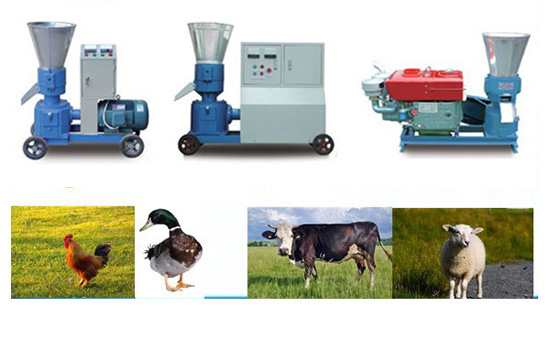 Tips on operating feed pellet machine
In order to prevent the problems like low production capacity, bad quality of pellets, abrasion and sudden stop of the pellet machine during the processing, operators should know some issues and tips about how to operate feed pellet machines.
To adjust the gap between the rollers and dies. Proper pressure can make perfect feed pellets with high maturation and high density. There is the pressure regulating screw on the feed pellet machine, to adjust the balance of the pressure screw and fastening them.
To keep the clean of the feed pellet machine, this is an obvious phenomenon. Some users didn't pay attention to clean feed pellet machine on time after using, which will reduce the lifespan of the machine. So remember to clean feed pellet machine after operating each time.
Lubricate and add grease regularly. To clean the flat dies periodically, and adding grease not only can prolong the life of the feed pellet machine but also improve the efficiency of the machine.
To choose the most proper diameter of the dies, if the diameter is too small, the production capacity cannot be guaranteed, even there will be the problem of can't make pellets. So before purchasing a feed pellet machine, please ask the salesman for the most suitable diameter.
For feed pellet machine, to put raw materials evenly and slowly is important, which can make pellets freely and keep the machine running at high speed. You can choose a feeder according to the real situation to low labor costs.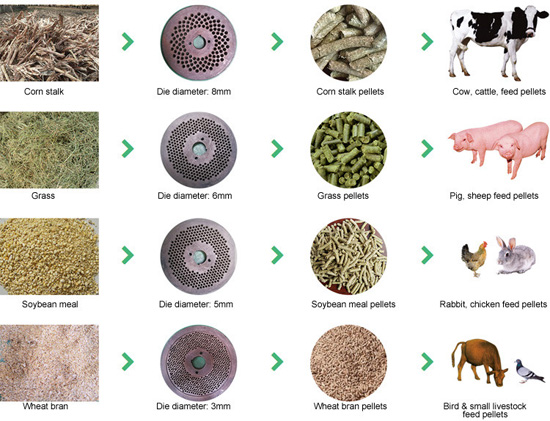 GEMCO researches the 220v 120 model feed pellet machine, which is popular among many family farmers. It is convenient because of no need in other three-phase. Let's list the advantages of 220v 120 feed pellet machine.
It is suitable for all the users, homemade feed maker or large feed processing factories.
This feed pellet machine takes little place, very convenient to operate.
The diameter of dies ranges from 2.5mm to 10mm, can produce various feed pellets for many animals.
Single phase is enough. The production capacity is 60-120kg/h. want higher capacity, please crush the raw materials enough and keep the moisture content on 12% to 18%.
Why choose GEMCO feed pellet machine?
As a famous and old factory, GEMCO has rich experience to help you choose the most suitable feed pellet machine or pellet production plant according to your raw materials, capacity and so on.
The products of GEMCO is durable and complete, we offer all kinds of pellet machines with different capacity and the whole complete equipment and necessary spare parts. Can meet the needs of different customers. The whole products are made of superior alloy steel with super wear resistance.
Perfect after-sale service. GEMCO feed pellet machine has one year after-sale warranty, life-long maintenance and you needn't worry about forever.